In 1941, Maj. John C. Horton of the West Coast Flying Training Command Headquarters at Moffett Field, California, took a trip to Kingman and found it the perfect location for a future gunnery school. The land was fairly level, the population was sparse, and land was available at a fair price. The clouds of war had been building in Europe since the mid-1930s.
With the Japanese bombing of Pearl Harbor in December, war was declared against the Japanese Empire and, shortly afterwards, against Germany. The B-17 Flying Fortress bomber, along with the rest of the family of war planes, was needed immediately on both fronts.
In 1942 Kingman Army Airfield was established as a training base for Army Air Force aerial gunners. In addition to the main facility, several emergency strips were built. There was one at Red Lake, about 17 miles northeast of the base. Others were built near Topock, and Yucca. Another was built at what is now Lake Havasu City Airport. The Army Air Force authorized the construction of a gunnery school in Kingman, 9 miles east of town on U.S. 66. The estimated cost was about $9 million.
On 7 May 1943 the facility was officially named the Kingman Army Air Field. The base continued to grow and change with many new squadrons were added to the base and some of the existing ones were combined. Soon 7,000 persons -- the first wave of what would eventually be 36,000 personnel trained here.
The war ended on both fronts in 1945. With peace in the world, there was no further need for a gunnery school. Or for the airplanes that carried the guns. The year saw the base gradually wind down to a stop. With the war in Europe over, the Kingman Army Airfield was deactivated and personnel either discharged or transferred. Three months later the War Assets Administration set up shop at Kingman. The base, along with four others, would now become a holding area for a huge amount of surplus military aircraft.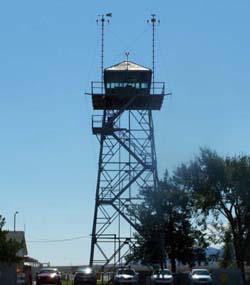 The planes began to fly into Kingman from many different U.S. and overseas bases. War-weary aircraft could be seen landing with great frequency throughout the days that followed. By the end of the year, almost 4,700 aircraft were dispersed on the vast acreage adjacent to the airfield.
In 1947 the aircraft scrapping operation at Kingman got underway. The three eight-hour shifts per day provided employment for hundreds of workers. The monthly payroll exceeded $200,000, aiding the economy of Kingman immensely.
In 1948 the U.S. Military was released the base for civilian use, and it became a property of Mohave County. Businessmen would start to develop an industrial park at the old military base. Today it also serves as a thriving general aviation airport and storage facility for commercial airliners.