This 'Route 66' Museum is housed in the old Powerhouse in Kingman, Arizona. Kingman is in the "heart" of the longest (remaining) stretch of the 2400 mile-long US-66 that is now one of America's legends.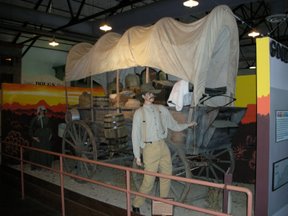 In the Museum you can view displays from photos to life-sized dioramas depicting the travel and travelers along this road which was so important in its day. The story begins with early trade routes and the Beale Wagon Road, which enabled pioneers to cross the land in "prairie schooners" such as the one on display.
An old Chevrolet truck and quotations from John Steinbeck's Grapes of Wrath help you understand the tough times along Route 66 during the Great Depression of the 1930s. Storefronts, murals, and a 1950 Studebaker Champion car illustrate the good times of the post-war era.
US Highway 66 or Route 66 was and is the most famous road in the United States highway system, and quite possibly the most famous and storied highway in the world. Route 66 is hard to beat as a travel theme for your next vacation.