The city of Kingman was established in the early 1880s by Lewis Kingman who located the route of the Santa Fe Railway. In 1883 Kingman was established as a railroad stop.
One of the most interesting parks in Kingman is the the Locomotive Park. It is located at 1st and Andy Devine Avenue, in downtown Kingman. This park is home for AT&SF steam engine #3759, which visitors may climb aboard. AT&SF 3759 locomotive is listed on the National Register of Historic Places.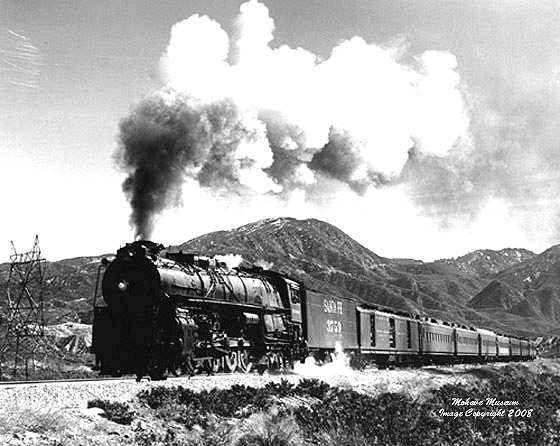 Shown above is Engine 3759 pulling a passenger train near Kingman
This "Mountain Type" coal-burning steam locomotive was built in 1927 by the Baldwin Locomotive Works. Then in 1941, it was converted to use oil. It was retired in 1953, having traveled over 2,585,600 miles.
The AT&SF used its 4-8-4s for regular passenger service from Los Angeles to Kansas City, with Kingman as a water stop. Since its main line stretching over 2200 miles (Chicago to California), the AT&SF had a real need for excellent motive power.
Finally in 1957, it was the last steam engine to travel the line to Kingman. On this last journey, the Santa Fe Railroad presented the engine to the city of Kingman.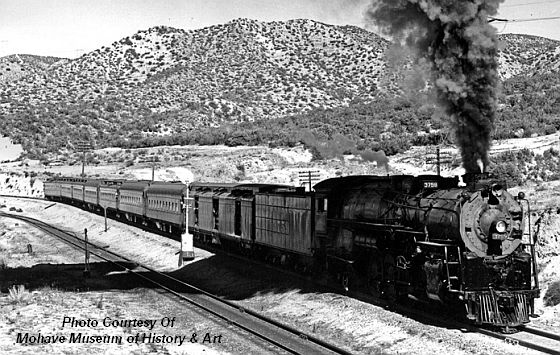 In 1987 caboose 999520 was retired and donated to Kingman to be added to the 3759 display. The park was added to the National Register of Historic Places in 1986 as number 86001113.