Hualapai Mountain Park was first developed during the early 1930's by the Civilian Conservation Corps (CCC). The roads, trails, picnic and camping areas, along with the stone cabins and pavilions, are still much as they were 50 years ago, helping to give the park it's own unique and solid character.
Whether you're looking for a place to picnic, hike, camp or spend the night in a rustic cabin, Hualapai Mountain Park offers many varied experiences for the whole family. Encompassing over 2300 acres with elevations ranging from 4984 to 8417 feet, park visitors can share a truly unique setting in the cool, clear, green refreshment of the pine country beauty and comfort of nature's mountain glory.
The name Hualapai means "Pine Tree Folk," and is derived from the name of the Indian tribe that once called these mountains home until they were relocated by the military in the 1870's.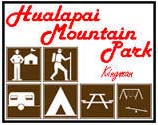 The total beauty, character and history of Hualapai Mountain Park cannot be fully expressed in words - it is something that must be experienced.
Take your family and friends for a truly wholesome adventure of outdoor fun.